If we're going to start this text citing the qualities of Galaxy S3, so don't even talk! There's no phone in China with the same hardware specifications of the famous smartphone from samsung. The problem is that it costs, without carrier plans and unlocked, almost 2000 real!
Getting real, If you are purchasing a phone around 500 to 600 real, price much more into account for most Brazilians, might be a good idea to consider a smartphone rather than a Chinese phone branded here in Brazil.
Here the most phones in the price range between 500 and 600 real, unlocked and without carrier plans, are simple CPUs between 400 and 600 MHz low on memory and few upgrade options. Some of them even run the slow Android 2.2 or 2.3, but most will have its own operating system, IE, without the ability to download games and applications.
A Chinese smartphone in this price range will come with Android ICS or Jelly Bean, have 1 GHz CPU or over clock, front and rear camera with flash, much larger screen with capacitive touchscreen, dual sim, GPS, WiFi and everything else which is entitled. This is the big focus of the Chinese market: phones to compete with the middle of the line of the great manufacturers, not to unseat the top.
Researched on PandaWill, famous Chinese tablets and phones, looking for good options in this price range. Considered the dollar R$ 2.10 and include taxes 60% in the account, which means that our $ 600 reais worth approximately US $ 180 in china (600 divided by 2.1 divided by 1.6).
All phones described below will probably be better than the bought here in Brazil in the 500 to 600 real. Certainly have better cameras, with flash and autofocus, best CPU for they are all dual colors, larger screens and an android more updated. All have 3 g, front and rear camera with flash, GPS, WiFi and Bluetooth.
So come on! Welcome to my selection of Chinese smartphones to $ 600 with taxes, that easily desbancam brand phones in the same price range:
-THL W1 ($ 173 without taxes)
The THL W1 has dual core cpu with 1 GHz clock, 1GB of memory RAM and comes with Android ICS. Features of screen 4.3 inch and a resolution a bit less than the HD. It seems to me a good phone. The manufacturer is good, has a site and have updates from your products available for download.
http://www.pandawill.com/thl-w1-smart-phone-android-40-mtk6577-1gb-ram-3g-gps-43-inch-qhd-screen-p65727.html
– Jiayu G2 Dual Core ($ $168,99 without taxes)
I've talked a lot about the Jiayu G3, It's a great phone but is above the price range of this text, What does not occur with the G2, that is $ $168,99 (no taxes).
This is a smartphone with CPU dualcore, 1GB RAM and 4.0 inches. GPS, Bluetooth, WiFi and everything else.
The manufacturer is reliable, only has a bad reputation for not meet deadlines for the release of products, what won't be a problem because the G2 already has more than a year of launch.
http://www.pandawill.com/jiayu-jyg2-dual-core-smart-phone-1g-ram-40-inch-ips-screen-android-40-mtk6577-3g-gps-black-p70270.html
-ZTE V955 ($ $172,99 without taxes)
I had a great experience with my ZTE V880 and I trust this manufacturer, It also sells here in Brazil. The ZTE V955 is a great phone with 4.5 -inch screen, CPU dualcore 1.2 GHz and 512 MB of RAM. Has 5Mpixels camera with autofocus and flash, In addition to GPS, WiFi and Bluetooth.
ZTE phones sell worldwide and the community usually has alternate versions of Android available for installation. This was the case of my V880 and may also occur with this V955.
http://www.pandawill.com/zte-v995-smart-phone-45-inch-ips-screen-msm8225-dual-core-android-40-3g-gps-p71035.html
– ZP500 Zopo ($ $167,49 without taxes)
The Zopo was a theme already Zp500 analysis here on the Blog. I still have this phone, It works perfectly over a year since the purchase.
But to match the others on the list I'm leaving the link of the ZP-500 , Unlike the ZP-500 features 1 GHz dual core cpu, While the other hardware configurations are the same: 512MB of RAM, 5Mpixels camera plus GPS, WiFi and Bluetooth.
The Zopo is a good manufacturer of phones, There are few complaints of defect or problems with their smartphones. There is also a good range of accessories sold on the official website.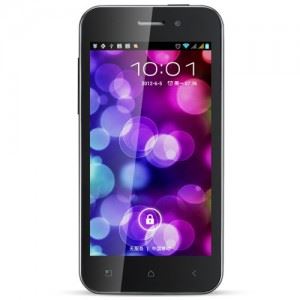 http://www.pandawill.com/zopo-libero-zp500-ultraslim-smart-phone-40-inch-ips-screen-android-40-mtk6577-black-p66905.html
– Cubot A8809 ($ $166,99 without taxes)
Of all the phones presented here in this text this is the more awesome. Although it is in the same price range of other, features of screen 4.7 inches, the same size as the Galaxy S3 though with lower resolution, CPU dual core 1 GHz, 8Mpixels camera and 512 MB of RAM.
Another difference is that comes installed Android 4.1 Jelly Bean, that seemed faster and with greater battery life.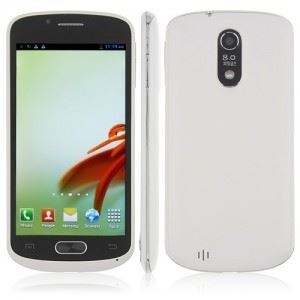 http://www.pandawill.com/icubot-a880-smart-phone-47-inch-ips-qhd-screen-android-40-mtk6577-3g-gps-80mp-camera-white-p68039.html
– Conclusion
The phones of this text show the wide domain of Chinese medium-cost smartphones market. It is quite possible that, in the near future, they can even compete with the high-end phones. The Jiayu G3 is the proof, Although closer to the Galaxy S2 specifications, He leaves no wish for the Galaxy S3 having copied including the famous Corning Gorilla Glass. Let's wait for the new Quad Core who are coming to Chinese market to see what the major manufacturers will have to face up to competition from our Asian friends.