I wanted to buy the Jiayu G4, but the problem is that we are about 1 year of the launch of this phone and it is still out of stock. Looking for an alternative to replace my G3 I ended up finding this phone: the UMI X 2.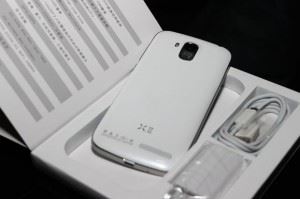 The similarity with the G4 and the Samsung Galaxy S4 is no small. The Gorilla display of 5 inches and the Quad Core CPU are the same among the three manufacturers.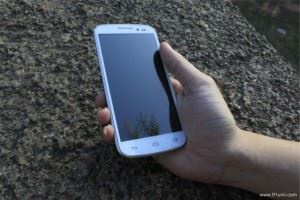 As well as the Jiayu G4, the UMI X 2 features dual sim and front camera of 13 m pixels, with flash and autofocus.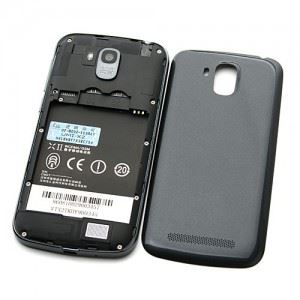 Although there are many options of Quad Core, I wouldn't buy any phone without the Gorilla Glass screen, famous anti-arranhão system. The day to day always end up destroying the mobile screen, but those that have gorilla glass don't suffer almost anything.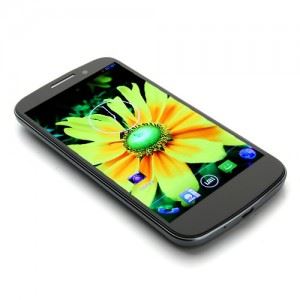 The UMI x 2 is thinner than the G3 and with bigger screen, and the amazing thing is that the LCD has FULL HD resolution. Amazing how a screen 5 inches has a resolution so high.
There are black versions (actually gray) and white. Interesting detail of physical keys well lit.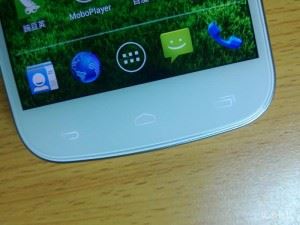 The only bad thing to buy a Chinese phone is the difficulty of finding covers. I found nothing for the x 2 still. But it's okay, the phone is only being sold since may 2013.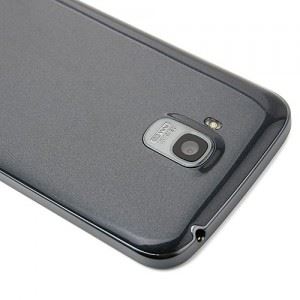 Below the size comparison of X 2 compared to previous model, the X 1 of 4.5 inches. The x 2 of 5 inches is a monster…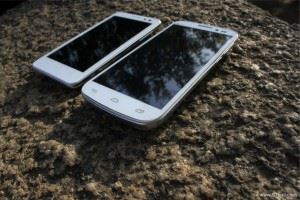 The AnTuTu registers a fantastic score of 12044. This all in FULL HD resolution!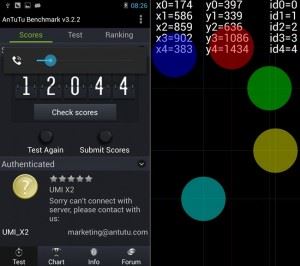 There are two versions of X 2 compared to hardware: with 2 GB of memory for $ 299 and one with only 1 GB for US $ 229. I think I will end up buying the 1 GB version even, because I see no sense in a mobile phone with 2 GB of RAM. Below the table of comparisons between the Jiayu G4 hardware (successor of the G3) and the UMI X 2.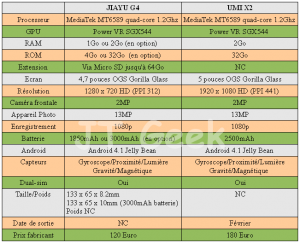 I haven't made my mind up completely by buying the x 2, but I certainly don't want to wait until October for the start of the re-stock Jiayu G4. I was really in the mood to buy a phone from 5 inch to serve as tablet day to day, and maybe this X 2 is the best option. Leave Link to the store PandaWill for those who want to check prices and specifications of the phone in black and white versions, 1GB and 2 GB.
2G white – http://www.pandawill.com/umi-x2-smartphone-50-inch-1080p-fhd-screen-gorilla-glass-2g-32g-mtk6589-quad-core-android-42-white-p74768.html
2GB Black – http://www.pandawill.com/umi-x2-smartphone-50-inch-1080p-fhd-screen-gorilla-glass-2g-32g-mtk6589-quad-core-android-42-grey-p74767.html
1GB white – http://www.pandawill.com/umi-x2-smartphone-50-inch-1080p-fhd-screen-gorilla-glass-mtk6589-quad-core-android-42-1g-16g-white-p74766.html
1GB Black – http://www.pandawill.com/umi-x2-smartphone-50-inch-1080p-fhd-screen-gorilla-glass-mtk6589-quad-core-android-42-1g-16g-grey-p74765.html