Focalprice is a Chinese shop much smaller than DealExtreme but pretty reliable. According to the lengthy discussions on deceased Orkut community, the customer service system in FocalPrice is better than in DealExtreme and in other places of China. But I can't talk much about it, until today everything I bought at FocalPrice arrived and worked without problems.
Were few purchases: only 23 in three years. Already bought since things guys like tablets to nonsense cheap, everything arrived without problems and was posted quite fast. One thing I really like in FocalPrice is that every day has three to four new products on sale in the "Daily Deal", in the right corner of the main page of the site. Most of what I bought in FocalPrice has been in this system of discounts. Always has great prices.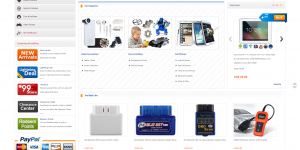 The "Lightning Deal" It is also nice: a product has a low price and as buying the price goes up. A little crazy, but certainly worth a look.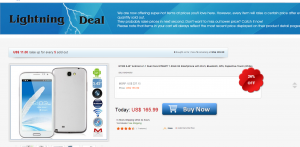 A pity the reward system be so bad. To win something you should do a review and send the link to them, to analyze the text and give you what they think is worth. Didn't even try to. I would prefer the system of links where you get when a user clicks and buys, that gives a lot more right.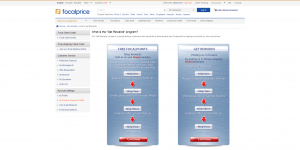 One thing I like about the FocalPrice is passing the mouse for your purchases you see a small image showing the product you bought. Sounds silly but when you buy a lot of stuff this is a great way to organize.
Attention to the tracking number, It's free only for purchases over 20 U.S. dollars. Don't shop without tracking number, or you won't be able to see where your package is to be able to claim on the website of the Office or on the Chinese site even.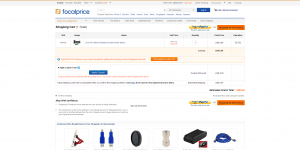 On purchases over 20 dollars the tracking number is included.
Attention to the system of coupons, Unlike the DealExtreme is fully functional. Before any purchase pass the sites that give coupons, IE codes of discounts to be typed in the box "coupon" the figure below. Sites such as RetailMeNot, dealcatcher, dealspl and others distribute this code and just look for them. May be specific coupons for the category you are buying, to the product or even generic discount fixed coupons. Try all to find, because it is quite possible that you end up getting a great discount. In the figure below I tried a coupon but was not valid, don't give up!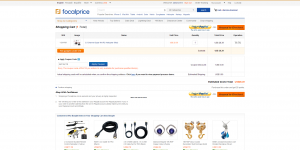 After much search I found a coupon they gave me 4,26 dollars of discount using code AFFAT15. But don't bother to try this again, they are valid for very little time and certainly have expired by the time you read this text. If you don't find coupons on sites that pointed out try Google.
The system of reviews is reasonable, and one of the problems is that there's a lot written in Russian. I used google translate several times to understand something, but certainly much of the meaning is lost. The DealExtreme not accept reviews of products that are not in English, but in FocalPrice appears all: Arabic, Chinese and sometimes even Portuguese!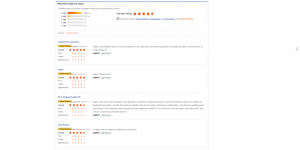 Product forums are also quite useful, Although much in Russian and other strange tongues.
But to sum up, You can tell it's a trusted site where certainly will do more shopping. Accept PayPal and ship the products straight arrow, quickly and without problems. I leave the link to the site down there as well as some of the coupon sites:
http://www.retailmenot.com/view/focalprice.com?c=4314128
http://www.dealcatcher.com/focalprice-coupons