* This is an old and outdated Repeater. To view the review and how to configure a most current Repeater, 300Mbits and supported standard no, follow this link.
————————————————————————————————————————————————————————————
I have a WiFi point in my room but I can not use the network in the living room because the signal is too weak. Because of that, I bought this WiFi repeater.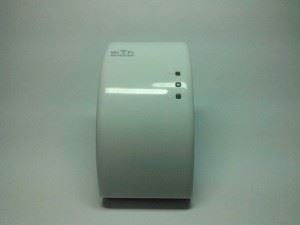 It is a small device that is plugged to an outlet and works by repeating a previously configured WiFi network, extending its range.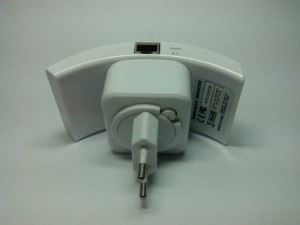 The new network can have the same name as your main Wifi or other denomination. In my case, I use the product in the living room of my apartment, configured to be called AdrianoSalaWiFi.
To configure the device you must connec it to a PC and set the computer's Gateway network to 192.168.10.1. Like this, by putting this address in any browser you can modify the repeater's settings.
There are two modes of operation: "Repeater" and "router". In the first case it works as I described, the second mode takes up a wired network in Ethernet and routes to create a wireless network. Just like any conventional WiFi router. In the figure below the Repeater is plugged in looking for WiFi network: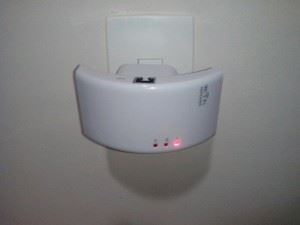 The only thing I didn't like was the fact that the network repeated use obligatorily the same frequency channel of the original network, What can cause interference. In my case it worked, but I realized that if too many people is using at the same time that can cause some disconnections. When the repeater find the configured WiFi network both green LEDs light up as shown below:
I leave below the link for those interested. I bought this device at DealExtreme:
http://dx.com/p/2-4ghz-802-11b-g-n-wifi-repeater-ac-110-230v-104740?item=1