If you do a lot of work with drill or other machines should always need an extension. I wonder why no manufacturer makes drill with long cord? This extension below is 7,6 meters and features circuit breaker for protection.
The coolest thing is that you, at the end of the use, reel and the guard extension much more easily than any other.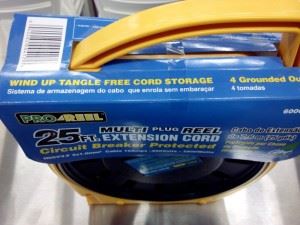 Has four taken from new Brazilian model.
Below, in detail, the four taken new model with Earth. At the bottom there is a button to reset the extension if the breaker disarm.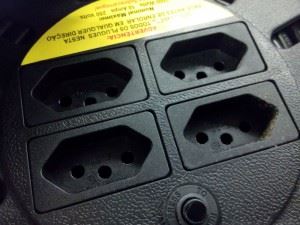 Developed in the USA and manufactured in China is for us not to feel so bad?
The main outlet that feeds the extension is also new Brazilian model, as shown below:
Buy extensions directly from China normally not worth it, because it is expensive and comes with a plug similar to the old model of air conditioning. This extension I found in ProRell Sam's Club for about 30 real. Anyway, those who want to take a look at the Chinese extensions, You can follow the link from the DX below: