The Cubot is a phone a8809 sad story, but now it's working!
I bought the Cubot because the price is unbeatable: about $ 160 bucks for a phone screen 4.7 inches, Android Jelly Bean, dual core 1 GHz, 512MB of RAM, GPS, WiFi, Dual SIM, Bluetooth and other paraphernalia more typical.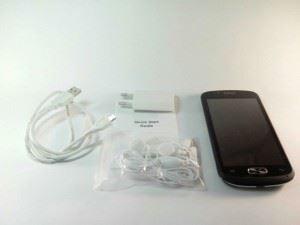 The phone screen has a resolution of 540p, IE, loses to the Jiayu G3 in this respect. The screen is great, the worsening even more the effect. But this is not a serious problem, Maybe just to watch movies in high resolution, What very few people must do. In the picture below I took to install the Home iLauncher, that transforms the interface on an iPhone:
I found the touchscreen not very sensitive. Does not affect much the use of the phone, but sometimes an icon or other is not activated when touched.
One of the defects caused by the touchscreen is more noticeable in access to status bar, that is not always appears when you slide your finger on the top of the screen.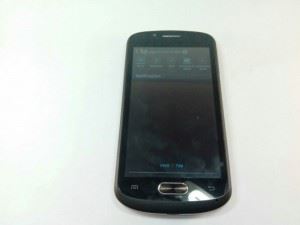 Android is the 4.1.1 jelly bean, and there seems to be no link to update or custom firmware. A shame.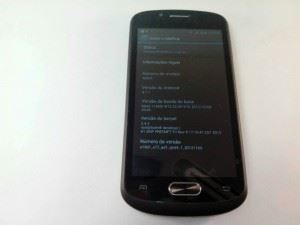 The Antutu is rather high for the price of the phone: 6223. Better than the Jiayu G3 and as good as the Samsung Galaxy s2. For less than 1/3 the price.
See hardware settings: ARM7, 240 DPI and resolution of 960×540.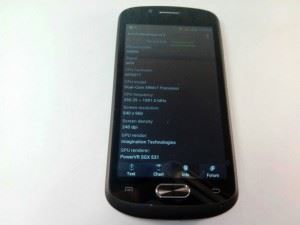 The front camera is 2Mpixels (Although register 1.9 in AnTuTu) and the back is of 8 m pixels. The pictures come out a little noisy, as was to be expected of a cheap phone.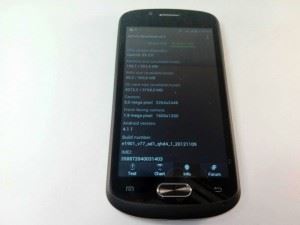 On the side of one of the few differences in housing this phone compared to the Samsung Galaxy S3: the volume and power buttons are together. Possibly you can use an S3 on this phone.
On the back of the camera flash, It is quite strong. See also the micro-USB connector is used:
The battery is quite good: 2300mAh. It's not as big as the Jiayu G3, so wait, tops, a day of constant use of WiFi, 3G or Bluetooth.
At the top of the photo you can see the two chips and micro-SD memory card.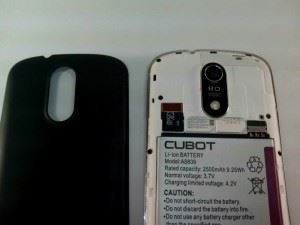 In conclusion: Once again we pay for what we get. The phone is not very good, but for less than 160 dollars also can't require very. Everything works, Although the WiFi reception is bad (the 3 g works well) and the touchscreen gives some gaps at certain times. The firmware might need some tweaking, but I couldn't find anywhere with an update that worth doing. In other words, is a cell phone that is worth the price, that is well below. For those interested I leave links to the DealExtreme and PandaWill, In addition to two forums where there is some discussion about the firmware:
Links for purchase:
http:///p/cubot-a8809-android-4-1-smartphone-w-4-8-capacitive-screen-dual-sim-wi-fi-and-gps-black-961171926 dx.com
http://www.pandawill.com/icubot-a880-smart-phone-47-inch-ips-qhd-screen-android-40-mtk6577-3g-gps-80mp-camera-white-p68039.html
Forums with discussion about this phone firmware update:
http://www.pandawillforum.com/showthread.php?14925-ROM-CUBOT-A8809-Android-4-1-Firmware-for-sku35611-amp-sku35462-(2012-12-12)
http://blog.geekbuying.com/index.php/2012/11/29/how-to-upgrade-your-cubot-a8809-to-android-4-1/#.UZleg7XvuAk