This is not the first time that I buy showers with Led lighting. I had previously purchased other, Although this is much better!
It is a square shower with 12 RGB LEDs that indicate the water temperature. There is no need for batteries, the water itself generates the power.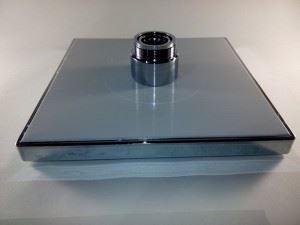 Nothing is actually metallic, IE, It's just ABS plastic with metallic protection. I didn't like it!
Water has this adapter to be threaded in the shower pipe from your House. This is just a shower head, You must own the pipe to plug it into the wall.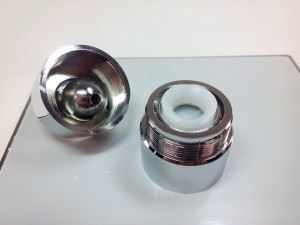 With the adapter connected to the shower is so. I didn't have to use any thread seal tape, just press.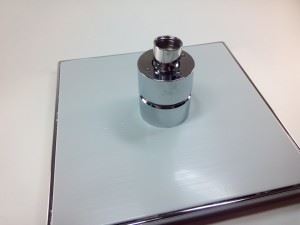 The front of the shower looks like this. I thought all the holes have a led, but they are only 12 that have lighting.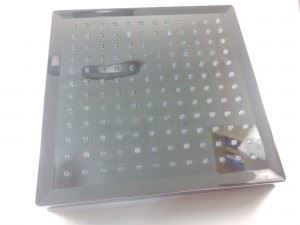 Below we have the shower installed in my bathroom. Remember that the metal pipe I had already, does not come with the equipment. Use thread seal tape between the barrel and the shower.
So we call the blue lighting indicating water ice.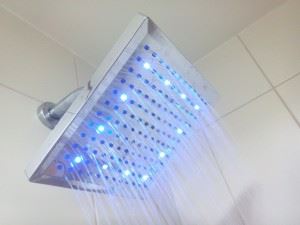 The lighting changes to Pink/Purple when the water is warm and red when the water's warm. When it is very hot the leds flash red!
With the bathroom light off the effect is even more interesting!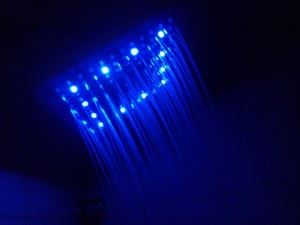 However, the shower has a problem common to all these models with lighting. As it does not use batteries, the water passes through a turbine that generates the energy required to power the leds. This causes, logically, a pressure loss which is problematic for those who live in the upper floors of a building. I thought this most expensive model would solve this defect, but I was wrong. He even works, but turns out to prevent the continued use of the heater.
If you don't live in one of the upper floors, However, that won't be a problem. Let then down the link to the product, also have a look at the Chinese for others of these showers and adapters with leds using the search AllChinese the TudoVemdaChina.
http:///p/8-square-3-color-led-digital-water-temperature-visualizer-shower-head-108973 dx.com