Your House has low pressure? So this shower of Lorenzetti promises to be the solution to take a bath that is not "of cat". Too bad they don't give out very well.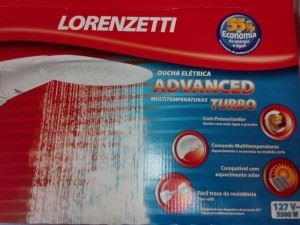 The Advanced Turbo, like product name "tabajara", has a pressurizer to increase the volume of water. Got everything to work fine, Although it has some design flaws.
Dismantling equipment in three parts: the base, shown in the picture below, the resistance and the plastic nozzle of the shower.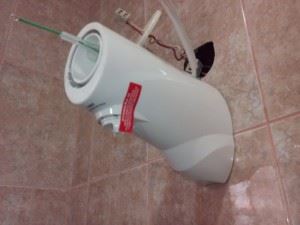 The base has a plugin for the resistance to be exchanged more easily, without the need to remove the base from the wall. In the picture below we have three connectors of the resistance.
The big problem here is that the pipe threaded shower base, connecting the water outlet, It's too short and totally stuck on plastic base. This means that to fit this shower you must rotate the entire base in the pipe from the wall, which is hard to do. As you are required to put the shower to 90 degrees of wall, Sometimes it is not possible to give one last turn around that would guarantee the grip. Maybe the only way not to leak water is even with veda Board.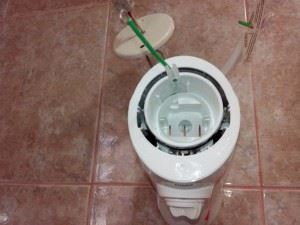 The resistance is really easy to be exchanged. Point to the project in this case.
There's the fully connected resistance: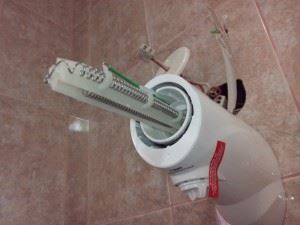 Then simply insert the plastic part of the shower itself. There is a control of temperature and pressure at the bottom of the base. Easily accessible in the shower.
This is the end result. This shower be a bit long and I might end up getting a little off-center relative to the box.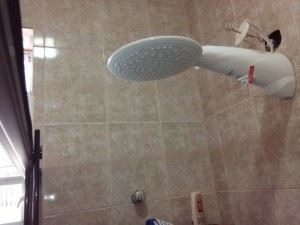 Exactly for being long and because pipe that is inside the wall is too short, the shower ends up being a bit tumbled down.
Detail of the control of temperature and pressure: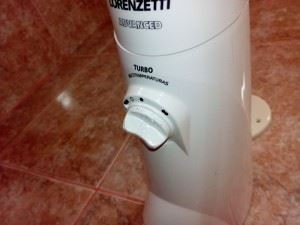 I recorded a video of the shower running. Check it out:
I didn't much like this shower. A big thing that does not heat enough water, Maybe just a little better than most conventional electric showers. I leave the link below for those who want to learn more about the Advanced Turbo of Lorenzetti:
http://compare.buscape.com.br/chuveiro-lorenzetti-advanced-turbo.html#precos
http://lista.mercadolivre.com.br/banho-duchas-chuveiros/chuveiro-ducha-lorenzetti-advanced-turbo-com-pressurizador