The three or four regular readers of this blog may remember that I tried to buy this adapter before, but I ended up getting another different than for anything served. Finally I hit and reached the correct!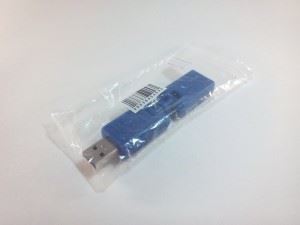 This small adapter serves, for example, to connect a flash drive or a USB cable on the back of a TV that is right against the wall.
The adapter has 180 degrees of freedom, and may be 90 degrees up or down. Or even serve as a back-to-back as shown in the picture below:
Worked perfectly in any position.
Receive one or another product wrong happens often with purchases in Chinese websites. They have tons of similar products and sometimes they send something changed even. Finally got the correct, that can be purchased at the link below:
http://dx.com/p/180-degree-bend-usb-3-0-male-to-female-adapter-blue-220073