I bought this keychain alcohol level indicator as a curiosity to know how it works.
All these cheaper alcoholic level meters have an electronic sensor like this shown below. The operation is simple, a microprocessor measures the resistance of a thin layer of Silicon oxide and compares this measure when there is contact with alcohol. How much the resistance decreases is proportional to the amount of alcohol in the air.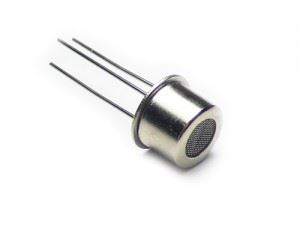 Apparently the meter has a low life. Although I have only used a few times, keeps working after a year. You can't guarantee that the statement will be only for alcohol, smoke and other products influence the measurement.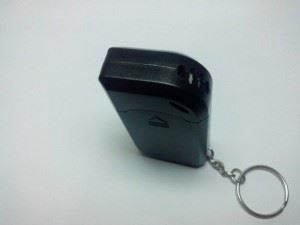 Runs on two AAA batteries and is a little too large for a keychain. There are other smaller in DealExtreme.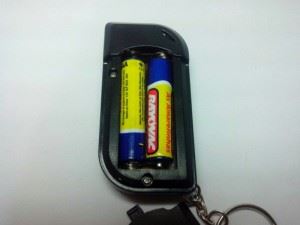 To use you must press the power button and keep pressed until only the green light stay lit, that is when you should blow over the sensor on the top of the meter. After a few seconds the leds will light up to indicate the level of alcohol in the air, that is proportional to the level in the blood: Green for below 0.02%, Orange for above 0,02% and Red above 0,05%.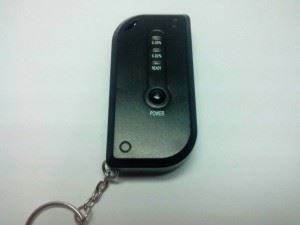 As I didn't have any alcohol in my house I tested putting the meter in the opening of a bottle of isopropyl alcohol. At the same time indicates the Red led, showing that at least the sensor works. Is that really reliable? See my test in the video below:
According to the Brazilian transit legislation, No amount of alcohol is tolerated when driving, then the sensor should light the Green led only after the test.
Those interested in the product can follow links left below for store DealExtreme. The meter shown in this text is currently missing, that's why I also left a link to similar equipment. Happy shopping and don't drink when driving!
The product of this post – http://dx.com/p/3-mode-led-alcohol-tester-breathalyzer-keychain-17833?Utm_rid=32082367&Utm_source=affiliate
An alternative very similar – http://dx.com/p/breathalyzer-with-parking-timer-and-flashlight-2254?Utm_rid=32082367&Utm_source=affiliate