I've had another IP camera WiFi, but this is no doubt much better. Introduce the camera JW004 of WansCam.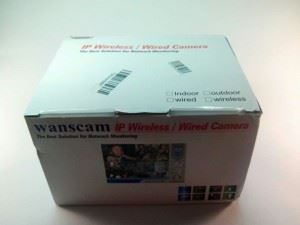 The operation of camera IP WiFi is presented in the diagram of the box shown below. Basically, you turn on the camera in any place with WiFi coverage and she transmits the image and sound for the internet. Interesting, No?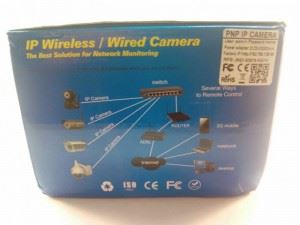 This is even better because it has TILT and PAN engines. In other words, a user from anywhere on the internet will also be able to change the horizontal and vertical position of the camera via browser. Very cool!
The camera is only VGA, but it has infrared to work in the dark, If necessary.
On the back we have the WiFi antenna and on the output side of the internal speaker. That same, a user directly from a browser can send an audio message for the camera repeat on speaker! Fantastic!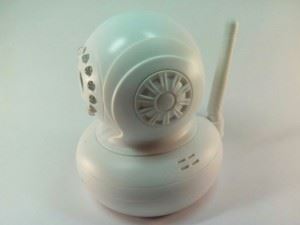 On the back we have the external audio input and output. The camera has a microphone and a speaker internal environment, But if you want can use these connectors.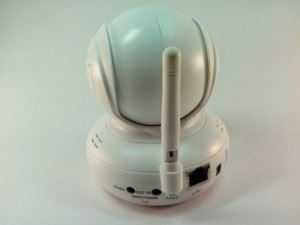 On the side we also have the Ethernet connection and power supply DC. A source with the camera, but I forgot to take a picture of it.
At the bottom we have some information about setting, including a DDNS system Chinese who did not work.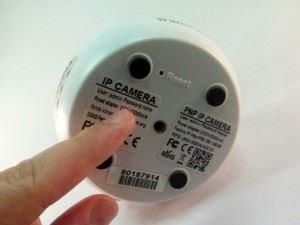 The camera comes with a bracket to be screwed on the wall or ceiling.
Below an example of fixing, If it is made in the roof let the camera upside down (What can be fixed via software).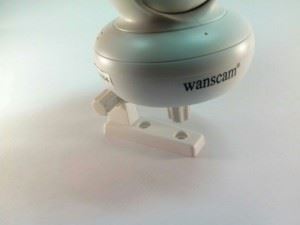 Under the operation of camera shown directly in the Browser from my computer. At the top right is the horizontal and vertical position adjustments.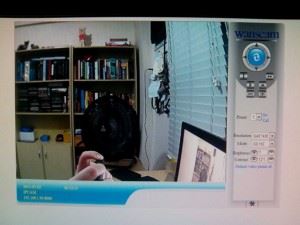 There are three interfaces that you choose to use the camera. ActiveX mode that allows to talk on camera, the mode "push" that allows only some functions and the way "JPEG" optimized to work even in mobile browsers.
Comes with manual and software CD, In addition to the fastening screws and plugs.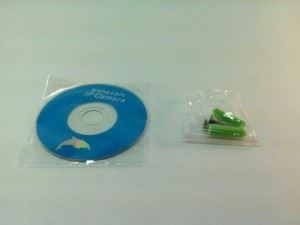 Look at the configuration menu: you have DDNS, UPNP, FTP, EMAIL, PTZ and many others! An alphabet soup.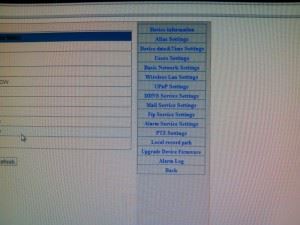 At the bottom right of the ActiveX interface has buttons for you hear the camera or microphone to talk on camera repeat! All this from the same browser!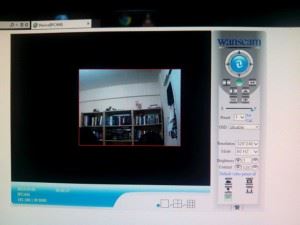 There is no option in the interface to send the camera to patrol from left to right and from bottom to top. There is also option to decrease the resolution and control brightness and contrast.
Configure kamera is kind of curled up,, portant made another separate text with photos showing what to do to get it running on the internet.. Access this tutorial < a href = "http://translate.googleusercontent.com/translate_c?depth=1&hl=sk&prev=search&rurl=translate.google.sk&sl=en&u=http://www.tudovemdachina.com/en/como-configurar-uma-camera-ip-wifi/&usg=ALkJrhhqrPzb1oZDRmR9GWXsTFWzCm1mbQ" > here .
This is not the best brand of IP cameras, Although it is quite cheap and has a good build quality. She warms up a bit, but I think it will continue to function. I found this camera, in general, fantastic, being the resolution is the only bad part, only 300 k. Yet the picture is sharp, even in the dark, and the fact that there is a microphone and speaker causes the product to be great. I leave the link to the purchase on DealExtreme, In addition to the manufacturer's website for downloads:
Link to the – http:///p/free-ddns-wanscam-jw0002-300kp-indoor-wireless-ip-network-camera-w-13-led-ir-night-vision-white-187914 dx.com
Download Manual and other software – http://www.wanscam.com/service/download-center.html?view=category