Normally I'm not much with ceiling fan, but this Arno I risked buying. And I think I did a great deal.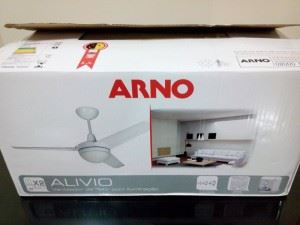 The Arno Relief is a great fan, which isn't very hard because most ceiling fans that exist on the market are horrible. When buying check if the fan is 127V (as appropriate to Rio de Janeiro) or 220V.
The paddles are plastic and have a very interesting plugin, as I'll show later in the text.
The body of the fan and chandelier comes assembled and require very little work to put to work. Point to the Arno that thought in people who do not want to spend money on installation.
The contents of the box below: fan, command, chandelier, shovels, ceiling support and instruction manual.
The fan motor is in the picture below. The placement of the paddles is made by sidebar, where there's a fit. There is also a protection for the paddles do not loose. I think it's great you don't need those ridiculous hooks that SAG over time.
Detail of the fitting the blade and wood protection locking the engine for transport. It is worth remembering that the Arno Relief is one of the few, otherwise the only, that has sorting "The" Inmetro in three speeds.
Below we have the three plastic fan blades: