Who said that knives must have that tone metallic silver? Look what I found on the CeC store.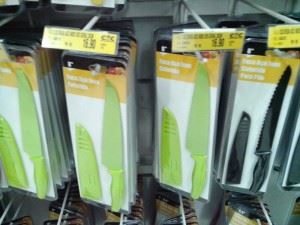 There are several types of knife: for cheese, bread and other. Various colors as well, including this extremely strange black.
Don't look so expensive, but logically I think unlikely that the color does not come out with the use. I hope the ink is not toxic…
The knives cost between 10 to 20 real. A good price considering the style. Cable and plastic support on the same color of the knife.
Those interested, You can search in stores CEC or so on Ebay, where I found some similar. I leave the link:
http://www.ebay.com/itm/Pure-Komachi-2-Kitchen-Knives-Entire-Product-Line-Build-Your-Own-Set-Free-Ship-/190759212235?_trksid=p2047675.m1850&_trkparms=aid%3D222002%26algo%3DSIC.FIT%26ao%3D1%26asc%3D11%26meid%3D4858968385230512878%26pid%3D100011%26prg%3D1005%26rk%3D1%26sd%3D190737756411%26