This is a product that I wanted to buy for some time. An Android TV BOX!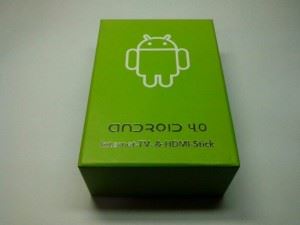 It is a device similar to a flash drive but with an HDMI output, that when connected to a tv turns the screen on an Android device. There are many of them in Chinese websites, This is one of the most famous: the CX-01.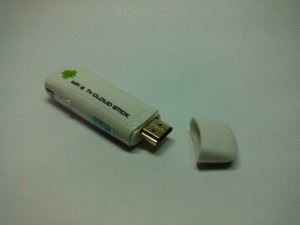 As the HDMI does not have enough power to supply an Android device, There's a micro-USB input (on the left of the picture) so you connect a source. In my case it is possible to use micro-USB cable that comes with the equipment to feed the CX-01 straight into my USB TV.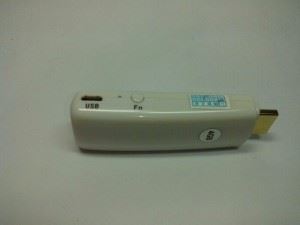 There is a button "Fn" on the side of the device that connects as mass storage and allows you to access data as if it were a flash drive 4 GB. Useful for them to copy videos or music to the CX-01 play on your TV.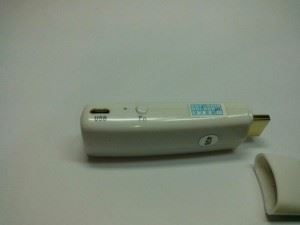 On the back there is a USB tradicionar connector for mouse or keyboard. Actually, You can connect any USB device that is supported on Android. I tested several mouses and wireless keyboards and all work!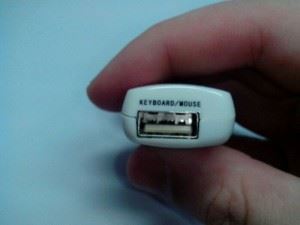 What comes in the box is in the picture below: a manual totally useless, the CX-01 and a micro-USB cable for power supply. Don't come a source, I'm glad I didn't have to.
To connect the contraption on your TV you should place the "pendrive" on HDMI, connect a USB mouse or keyboard (in my case I put a wireless presenter will speak later) and feed the device connecting the micro-USB input. In my case, power comes from a USB connector on the TV itself, as you can see in the picture below: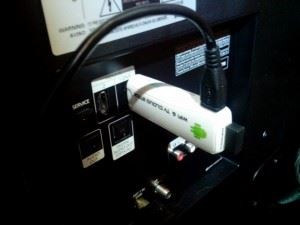 The equipment is very discreet behind the tv. Just a wire between him and the TV USB. If your TV does not have a USB you must connect to a source of at least 500mA, second checked forums.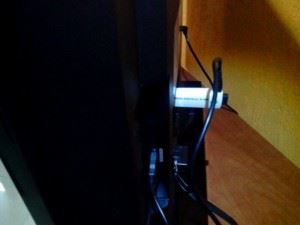 So League, the TV shows 1920 x 1080 / 60p, IE, full HD BlueRay quality. Not bad…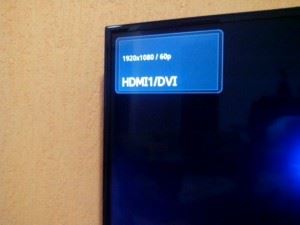 This is the boot screen, It stays that way for about 2 minutes.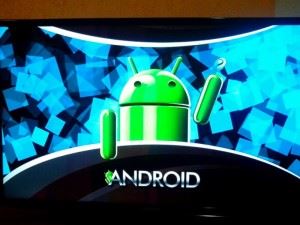 Below we have the traditional Android Home screen ICS. As there is no touchscreen, You must control the CX-01 with a mouse or keyboard. In my case I used the presenter and mouse R900. Then I'll talk about it.
The device has 4 GB and 1 g is occupied by Android, 1G available to install APPs and 2 g to copy songs and videos. Is little, but you can do some jokes.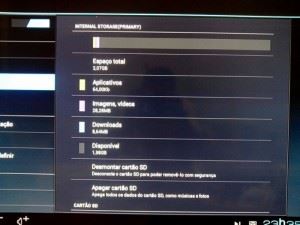 If your TV is not FullHD can choose another resolution. There is availability of 480 p and 720 p.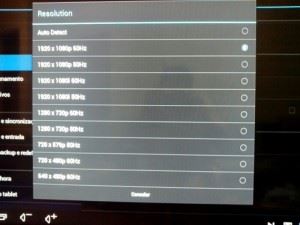 Have you seen an Android 4.0.4 with such a large screen?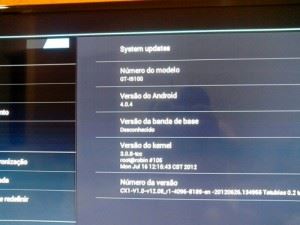 There is no bluetooth, which is a shame, but you can access the WiFi network and have internet access. This $ 40 device turns any TV into Smart model!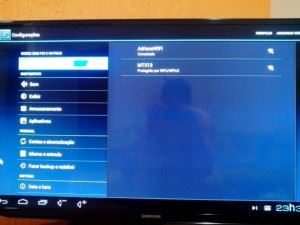 You can watch, on the screen of your tv, any video from YouTube, including HD videos. See just below a video of the tudovemdachina on the remote control.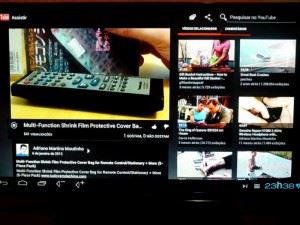 There are a large number of videos and channels that you can explore on YouTube! Goodbye TV!
When you open the YouTube for this 3D interface to watch the most viewed videos of the week.
Another crazy idea is to check Facebook or Twitter updates right on the TV screen! It's like you have a tablet of 42 inches!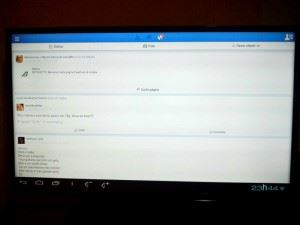 Email also! Actually, There's a zillion Android applications that can be downloaded straight from the Market. This makes CX-01 a device with many uses. A pocket computer!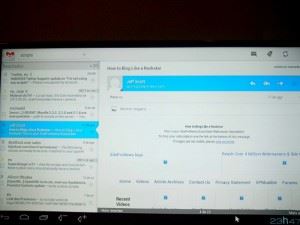 You can download and play Angry Birds on the TV screen. Not all games will work, but certainly a lot going to work.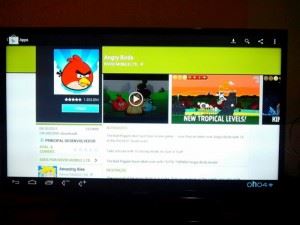 All versions of Angry Birds work. But the Bad Piggies, for example, given problem.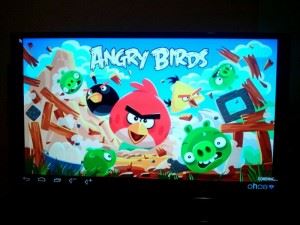 There is a very good Browser to assemble correctly the majority of Web pages, even if Flash or javascript content.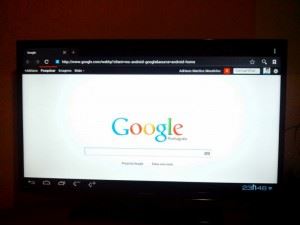 Look at this site mounted on my TV screen 42 inches:
An interesting application to have in the CX-01 is the UPNPLAY. It allows you to play videos in Stream of any Windows computer connected around. I have more than 1T series and movies waiting for me and there is no need to transfer them to the CX-01, You can play directly from the source computer via WiFi network!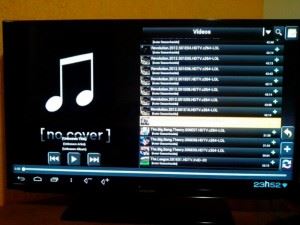 I have on my external HD, for example, All episodes of the Big Bang Theory! Pity that the UPNPLAY does not allow you to play videos in 720 p.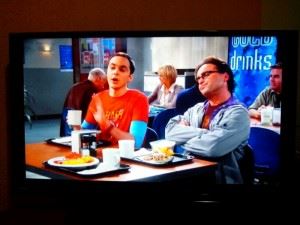 A strange defect in CX-01, that apparently has no solution in forums is that the videos don't play in entirely in FullScreen. There is a black bar, the Android status bar, at the bottom of the image that does not come out at all. I'm still trying to see how you can solve it.
The CPU is an A7 1 GHz. It's not very good, most phones today have better CPUs than the CX-01. Let's remember that this device costs only US $ 40.00!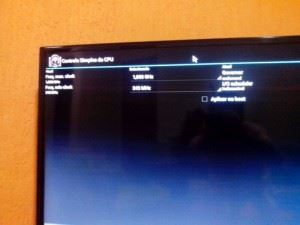 The result of the Antutu Benchmarking, standard of measurement of the processing power of android devices, stay in 2108. My cell phone, the ZP-Zopo 500, stay in 4000, While the Samsung S2 and S3 are around 8000 to 10000.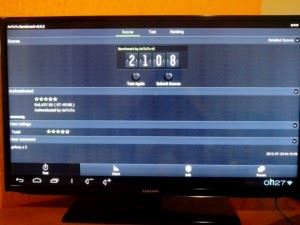 It was a great buy to watch videos and access the internet directly into my tv. I had a good discount by taking advantage of the Black Friday and took the Cx-01 along with the Air Mouse presenter R900 for the low price of U $64,00! Those interested in making the purchase can follow the links below, the store PandaWill:
CX-01 4 GB version-> http://www.pandawill.com/cx01-mini-android-tv-box-android-40-cortex-a5-hdmi-usb-4gb-p63620.html
CX-01 4 GB version-> http://www.pandawill.com/cx01-mini-android-pc-android-tv-box-android-40-cortex-a5-hdmi-usb-8gb-p64374.html
CX-01 4 GB version and host Rii R900-> http://www.pandawill.com/cx01-mini-android-tv-box-rii-r900-professional-air-mouse-presenter-p63991.html