This post first appeared in Thiago Perrotta blog. Recently I tested many apps for Android, so I'm going to begin writing a series of posts by recommending which found most interesting and / or better. Each post will include a handful of apps, separated by categories.
OBS.: These posts will follow two basic principles: to) are only listed applications which tend to be worth leaving installed so Permanent in the system. This is, I will avoid list applications which only worth "view how" and then uninstall them. That's not the point; actually, the goal is to present a set of applications that is relatively useful / interesting point of keep them installed in the system and (b)) I do not intend to describe these applications extensively. The idea of testing an application is DIY (= do it yourself / do it yourself). Come on: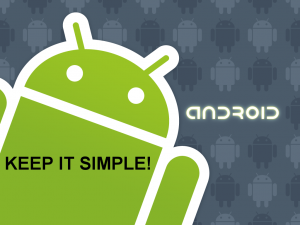 Part of today: KISS
This seems to be the most suggestive category to start. KISS = Keep it Simple, Stupid! or, more affectionately, Keep it Short & Simple. This is a fairly common term in some programming areas / related forums. The idea is to keep things simple possible, but simpering. If you like Einstein: http://pensador.uol.com.br/frase/MTUzOA/ . More information: http://pt.wikipedia.org/wiki/Keep_It_Simple .
1 – Oi File Manager:
Simple file manager, But even better than the native Android Manager. And more intuitive, too.
2 – QuickPic:
Like Oi File Manager, only to manage image gallery. Also more intuitive and better than the default.
3 – Barcode Scanner
QR Code Reader. It goes straight to the point.
4 – Connectbot
To connect to an ssh interface. Clean interface, does exactly what it has to do.
5 – CPU-Z
To review General information about your device and your system Android.
6 – Opera Mini
The simplest browser that preserves efficiency. Much better than the native Android browser. Optionally, has speed-dials and sync.
7 – Flashlight
He turns on the camera Flash and keeps the white display. To get a sense: This is the simplest application of flashlight, the only permission that he requires is the camera. And it is not easy to find in store play if you only search for "flashlight" or "flashlight". The more that appear are the most bloated.
8 – MoreLocale 2
Change the locale of your Android. Locale encompasses not only the language, but also other things, like the way that the date is printed, for example.
9 – Notification Memo
Remember one important thing creating a quick note to lock in notifications, until you want to. Simpler, impossible.
If you have any different opinion regarding these applications or you want to leave more suggestions, comment below!